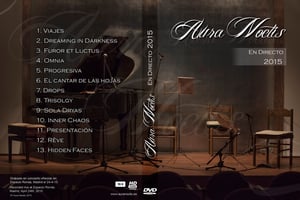 €

10.00 - On Sale
AURA NOCTIS DVD: En directo 2015 (Live 2015)
Our new DVD "En Directo - 2015" (Live - 2015) features our recent
performance in Espacio Ronda, Madrid (last April 24th, 2015) and
includes 13 tracks, six of them have never been released before.

You'll listen to our new cellist, Susana Rico, and our new vocalist,
Beatriz Tierno. (Susana is a professional cellist from Madrid, with
a background as a performer in the SNO (Spanish National Orchestra).
Beatriz has been a songwriter for many years, and she has taken over the leading vocals and is writing some new lyrics.
Our performance was 100% acoustic (grand piano, oboe, flutes, cello,
bendir, vocals) . You can find the tracklist below:
-------------------
1. Viajes -(Reise)
2. Dreaming in Darkness*
3. Furor et Luctus
4. Omnia
5. Progresiva
6. El cantar de las hojas
7. Drops*
8. Trisolgy*
9. Sola Dryas*
10. Inner Chaos
11. Introducing the band
12. Rêve*
13. Hidden Faces*
------------------------------------------
Piano: Olga B. García
Oboe & Flutes: Carmen Ruiz Revuelta
Cello: Susana Rico
Drums: Rubén G.
Vocals: Beatriz Tierno
------------------------------------------
PAL - available
NTSC - on request, please send us an email first (auranoc[email protected]) and you will be notified when it's available