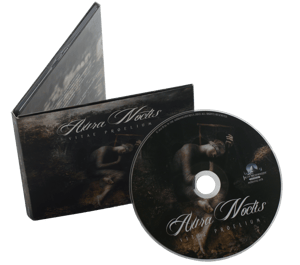 €

13.00
AURA NOCTIS : VITAE PROELIUM.
Nuevo CD - Digipack - 8 paneles - 13 temas
Masterizado por Frederic Chaplain (Prikosnovenie).
-------------------
"The newest album from the neo-classical act Aura Noctis consisting of two Spanish girls: Olga (piano, vocals, arrangements) and Pilar (cello, vocals). On their new album "Vitae Proelium" the duo is joined by Rubén G. (drums, flutes), Fernando (drums) and Carmen (oboe).
The album comes after the release of the duo's debut "Itineris I" which was released in 2011 on Twilight Records. Note that the mastering on this new album was executed by Frederic Chaplain (Prikosnovenie)".
Review in Gothic Paradise:
http://www.gothicparadise.com/aura_noctis.htm
Tracklist:
1. Windtro
2. Vitae Proelium
3. El Cantar de las Hojas
4. Inner Chaos
5. Dances of the Soul
6. Amissi
7. Frater Mortis
8. Lautir
9. Arevaci
10. Verna
11. Un lugar
12. Quimera
13. Omnia in anima manent